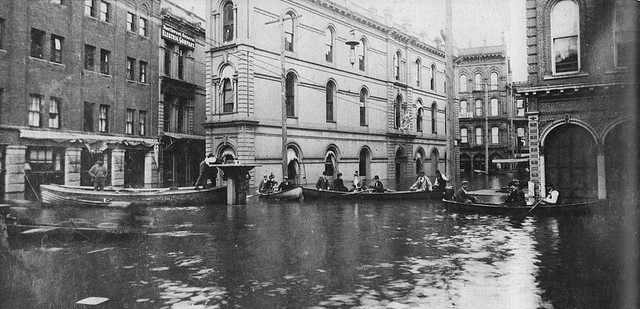 Please join us on June 18th, at 7:30pm for our 2nd Year Anniversary Party at The Jack London Bar! Oh, and we'll be talking about The Great Flood of 1894 – when the Willamette flooded to an all time height – and crazy pictures such as the one above were shot all over downtown! (Yes! That's the Skidmore fountain! Instead of being filled with Henry's beer – it's filled with the Willamette's shit water! Ewwwwwwww!!!!)
It was two years ago that Terry, who runs the show at The JLB, approached The Resident Historian and said, "I Googled Danford Balch and your podcast came up. So, do you want to come down to my new/ old timey bar and talk about The Hanging Danford Balch?" (Cause Terry is IRL all geeked out on Danford Balch) And The Resident Historian responded with a resounding "Fuck Yeah!!" This seems like something we should celebrate, yeah?
We'll post more here to let you know all about the festivities, but basically,
1) There WILL be cake, and
2) It will all be free!!!
3) Pixel Part is going to be selling these RAD Oregon Trail stickers!! AND we'll be giving some away as prizes!! [see below]
4) And William Joseph Gallery will be giving away this AWESOME print of the Meier & Frank Building in The Great Flood of 1894!
So mark your calendar, and be sure to join us at The Jack London Bar. Melissa The Intern is busy as I type, looking for more Kick Ass Flooded Portland photos!!
AND be sure to check out our Kick Ass Oregon History podcast on the subject which you can find right here!