Come Join Us In Person for Fun, Informative Events In and About Oregon!
Look below the events listings for a short video of our "Treasure and Loot Bus Tour."
KAOH's Fun Time Boom Boom Dynamo Show
April 17, 2014 @ 7:00 PM

-

10:00 PM

$5.00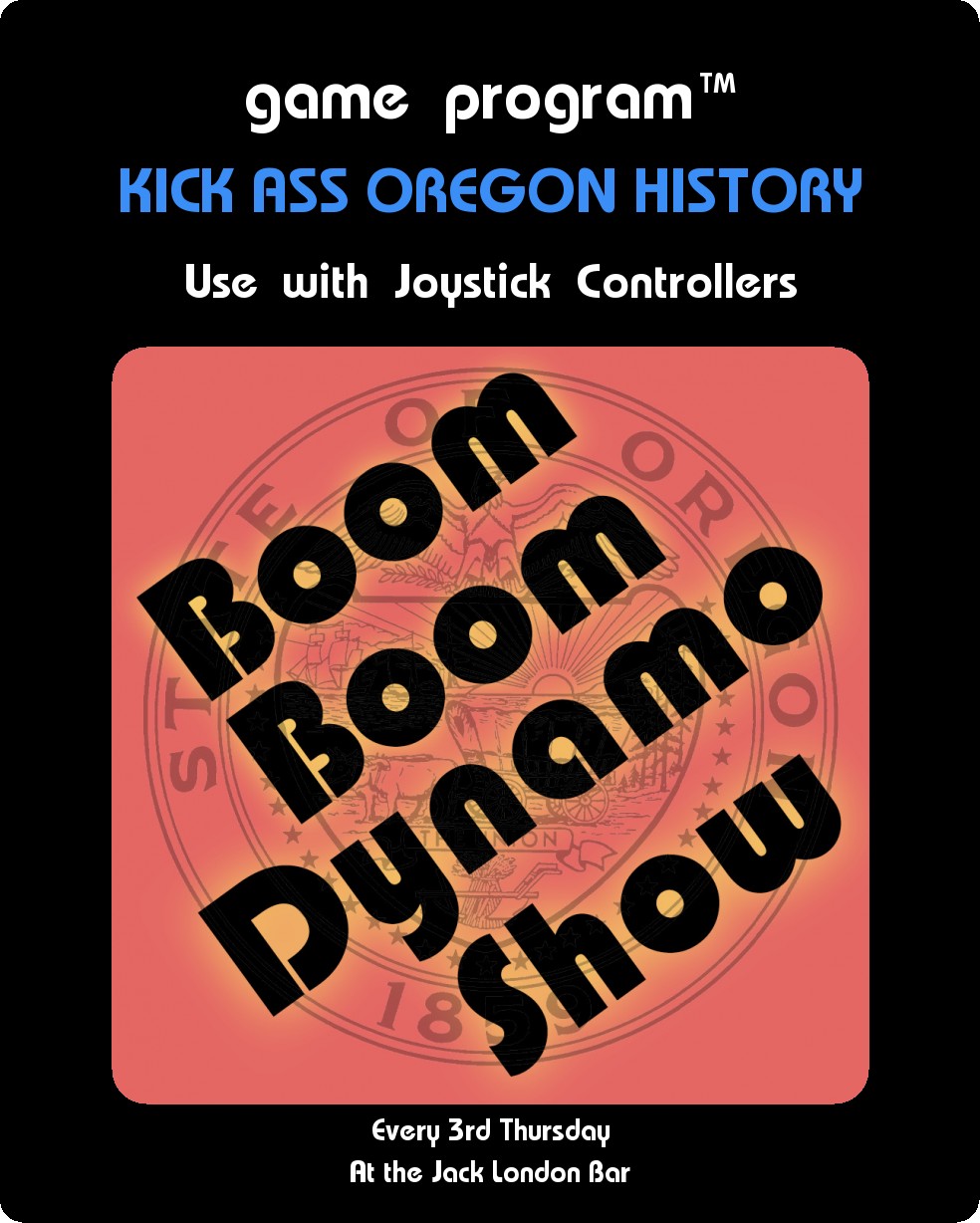 The Resident Historian. Talented Individuals. Obscure Oregon Films. I know you think you're the queen of the underground, but THIS is Underground History.
Kick Ass Oregon History is proud to announce that our monthly show at The Jack London Bar is moving from the 3rd Tuesday to the 3rd Thursday of every month!
On April 17th, 2014, we will inaugurate the first of our new series, which we are calling the Boom Boom Dynamo Show! Doors are at 7:00pm, and the show begins at 7:30. The admission is $5.*
The idea behind the Boom Boom Dynamo Show is to present history to the public in a different, distinct and engaging manner. To make it accessible. Entertaining. And decidedly Portland.
To inaugurate the event, our premiere of this new series, we will revisit one of our favorite presentations. Resident Historian Doug Kenck-Crispin will discuss "Shanghaied in Portland," in which we will present the details of crimping in the City of Roses, and lay out the argument that the Shanghai Tunnels… are complete Bullshit…
Mark Russell, author of God Is Disappointed In You, will provide a little religious sanctimony to the evening. Cause that's EXACTLY what you heathen Portlanders need… a little fuckin' churchin'…
We will be led in a group craft from Shawn Bowman aka Miss Demeanor. Shawn is a Portland fictional realist and the Crafter In Residence for the Boom Boom Dynamo Show. SCRAP is a proud sponsor of the show, and they will be providing us with all the material we need to get our craft on!
We are also going to have a dude that plays the saw. Like a musical instrument! In addition, we will also introduce the first installments from our brand new coloring sheet serial. Yes, coloring sheets, like when you were in 2nd grade. But Kick Ass! And about Oregon's awesome History.
Rounding out the evening will be a film viewing we care calling "Stuff from the Vault." Matthew Cowan of the Oregon Historical Society will be bringing random and not so random reels from their collection and we are going to project them! Most will be 16mm, some will be video, but all will kind of have to do with Oregon, maybe. What sort of gems to expect? Well we just don't know dude – but they are BOUND to be entertaining!
AND our friends at Eastside Distilling will be present, sampling their Burnside Bourbon! A house favorite of Kick Ass Oregon History!
So would you want to miss this event? For real? Please join us on Thursday, April 17th at 7:00pm for Kick Ass Oregon History's Boom Boom Dynamo Show at The Jack London Bar (529 SW 4th). You will be educated AND entertained! And there's coloring sheets!